UNESCO's History
As early as 1942, in wartime, the governments of the European countries, which were confronting Nazi Germany and its allies, met in the United Kingdom for the Conference of Allied Ministers of Education (CAME). The Second World War was far from over, yet those countries were looking for ways and means to reconstruct their systems of education once peace was restored. Very quickly, the project gained momentum and soon took on a universal note. New governments, including that of the United States, decided to join in.Upon the proposal of CAME, a United Nations Conference for the establishment of an educational and cultural organization (ECO/CONF) was convened in London from 1 to 16 November 1945. Scarcely had the war ended when the conference opened. It gathered together the representatives of forty-four countries who decided to create an organization that would embody a genuine culture of peace. In their eyes, the new organization must establish the "intellectual and moral solidarity of mankind" and, in so doing, prevent the outbreak of another world war.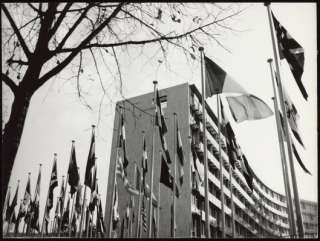 UNESCO and Luxembourg
Luxembourg was the 33rd country to join UNESCO on the 27th October 1947. Two years later, the National Commission for cooperation with UNESCO was founded on the 22nd July 1949. The official ceremony was attended by UNESCO's director general and took place on the 15th December of the same year. The economist and historian Albert Calmes was the first president of the National Commission for cooperation with UNESCO and François-Léon Lefort took up the role of secretary general.